Invisible or Inspired?
While the rest of our coworkers are creating design and code, we PMs focus on the intangibles. Deadlines, documentation, resourcing—it's not exactly sexy. When a website launches, the first reactions you hear aren't "Amazing site—must have had a great PM." PMs are often the last to get the glory and the first ones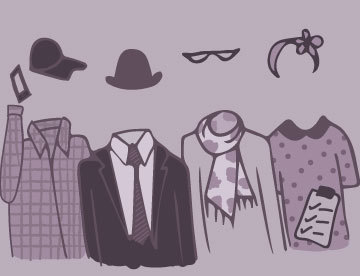 to get knocked down when something goes wrong. It can be easy to feel like Mr. Cellophane if you don't have the right perspective.
But remember: Movies don't get made without producers. A symphony is silent without its conductor. Good project managers are essential to the masterpieces they help create. Now I'm not saying you have to get all Stuart Smalley, (ahem – Senator Stuart Smalley), but if you're feeling more invisible than inspired, take a step back and try refocusing.
Own your role.
You need a solid footing to stand tall. Know exactly what your organization expects of you. Start with your manager, and make sure you understand the fundamental occupational requirements of your role. Talk to your team members, and make sure you have a mutual understanding of what they expect from you and what you can expect in return.
With clients, it's especially important to establish yourself. Make it clear that, above all, you are their advocate, but you're also their disciplinarian and cheerleader. It's important they understand that whatever you do is in the best interest of the project. (Need to push a deadline? It's because this is what it will take for the work to be done right… you get the idea.)
For those managing both sides, there are situations where you need to play the role of mediator and negotiator, balancing client and team needs. If you have to push harder on one particular side, clearly communicate what's motivating you to tilt the scales out of balance.
The PM role can vary a lot from place to place. At Happy Cog, PMs are valued members of the team. We have amazingly talented practitioners here, but our clients also hire us because we help make their jobs easier. I know there are plenty of organizations out there who may not position PMs in the same light. If you're in that dark place, build a case for the value you provide, and sell it. Sites don't launch themselves.
Find your style.
"My mission in life is not merely to survive, but to thrive; and to do so with some passion, some compassion, some humor, and some style"
—Maya Angelou
I love this quote, because It's so easy to just survive in a PM role. Focusing on putting out fires and crossing off mundane tasks on your to-do list is a total life suck. Just make it better. I've recently made my client communications a lot less formal. Sure, I still keep it professional, but adding some humor has really lightened things up and makes the project more pleasurable to work on. Finally got that approval? Add something like this to your confirmation. Put that fire out? Rock out to a little Girl on Fire on the office speakers. Celebrate all the victories—big and small. You might be really good at the positive, the funny, or the compassionate. Brightening up someone else's day is a great way to brighten your own. Whatever it is, find your own personality and style to keep your head above the clouds.
Learn. Teach. Rinse and Repeat.
Sure, we PMs don't create in CSS or Photoshop, but we are designers and problem solvers in our own right, and we need to stay sharp to be effective. Strive to continuously refine your skills. You'll not only keep things fresh and interesting, but your résumé will be all the spiffier.
There are plenty of project management certifications out there you could invest in (PMI.org being the most generally accepted), but the jury is out on whether or not it is applicable to the creative space (or worth the money). Years ago, I went through Six Sigma training. I can't say I use it all the time, but I can run a really effective meeting under a time crunch.
There are a number of free or less expensive resources out there, as well. Here are a few you might want to check out:
I believe it's important in the PM space to know enough that it helps you ask the right questions. Don't assume you have all the answers. You'll only add to the "PM's get in the way" myth. Keep learning. I'll get to one of those Girl Develop It classes yet!
Another way to keep things fresh and stay out of a PM rut is to simply embrace the value of our role and give it some visibility in the industry. This year, I'll be participating in more industry events in the Philly area from PhilaMade and PhillyCHI. No events near you? Start a meetup and grab a beer with some other PMs. Here, Happy Cog recognizes the lack of conferences for web PMs and is putting together a PM Conference this coming fall here in Philadelphia. WOOT!
If you've got the PM blues, take a class, write an article, find a victory to celebrate. Next time your site or your app goes live, know that you brought the pieces together to make it happen. Most importantly, share your experience with the rest of the PM world. What are your tactics for keeping PM life inspiring?